François Andrieux
Biographical Information
Real Name
François Andrieux
Gender
Male
Class
Nat
Social Information
Place of Birth
France
Citizenship
Citizen of France with a criminal record
Occupation
Hotel desk clerk, terrorist
Base of Operations
Paris, France
Affiliations
French Communist Party
Relatives
Gisele Bacourt (wife), Blaise Jeannot Andrieux (son), Illyana (granddaughter)
Allies
Claude Donnel
Origin
First Appearance
Aces Abroad
Creator
Melinda Snodgrass
François Andrieux was the father of Blaise Jeannot Andrieux. He was married to Blaise's mother, the half-human, half-Takisian daughter of Dr. Tachyon, Gisele Bacourt.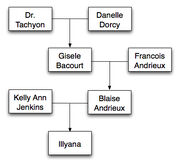 François Andrieux met and married Gisele Bacourt, a woman deeply entrenched in left wing politics. Together they had a son, Blaise Jeannot Andrieux, whom they raised in an environment of political extremism. When Gisele was killed in a shoot out François was left to raise the child on his own, and in this he was aided by Claude Bonnel, a joker who had come to lead the terrorist group that François had become a part of. The boy was therefore raised in an environment of few restraints and became a dangerous pawn for Bonnel thanks to his hereditary gift for mind control.
In April of 1987, a delegation of wild carders came to France on a WHO-sponsored world tour. Among them was Blaise's maternal grandfather, Dr. Tachyon. While Claude Bonnel hatched a plan to lure the Takisian into his control, François broke rank and gunned down his own mother-in-law. While this frustrated Bonnel's plans, the impact was minimal and François continued to serve the extremist cause. This all came to an end when Tachyon initiated a plan of his own to extract the boy and François was caught and imprisoned.
Appearance
Edit
Andrieux is a handsome man with sleek seal-brown hair and deep blue eyes.
Selected Reading
Edit
Wild Cards Volume IV: Aces Abroad - "Mirrors of the Soul"
Ad blocker interference detected!
Wikia is a free-to-use site that makes money from advertising. We have a modified experience for viewers using ad blockers

Wikia is not accessible if you've made further modifications. Remove the custom ad blocker rule(s) and the page will load as expected.