Media Info

Class

Autobiography

Created by

First Appearance

Associated Characters

The Jet-Propelled Boy was the name of a book of memoirs that Jetboy started to write in August of 1946, after he returned to America. It narrated the story of his participation in World War II. Jetboy planned to finish the book in 1947. After Jetboy's tragic death on September 15 of 1946, The Jet-Propelled Boy remained forever unfinished.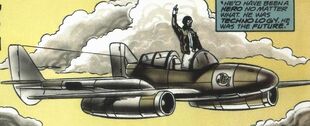 Ad blocker interference detected!
Wikia is a free-to-use site that makes money from advertising. We have a modified experience for viewers using ad blockers

Wikia is not accessible if you've made further modifications. Remove the custom ad blocker rule(s) and the page will load as expected.